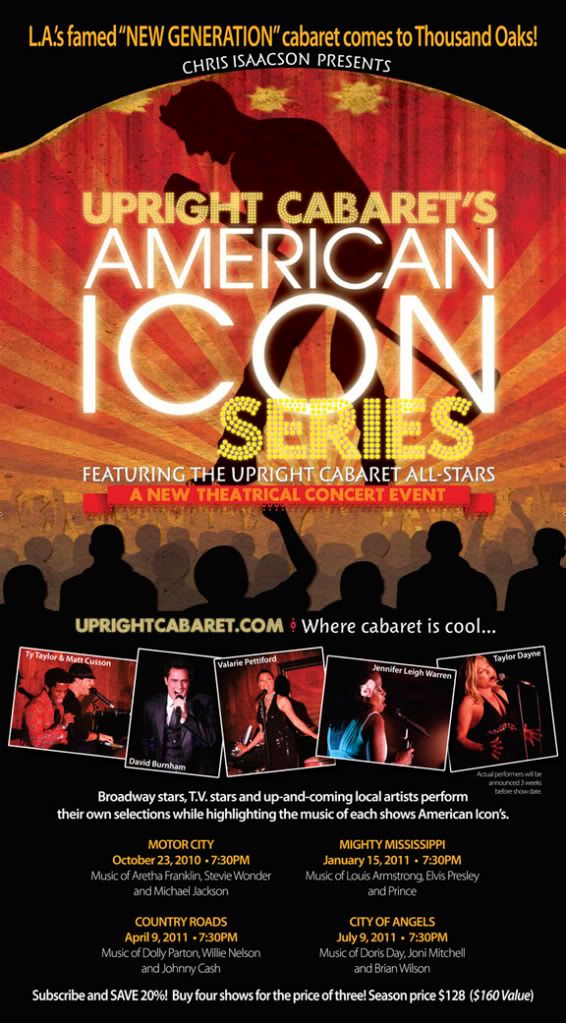 L.A.'s famed Upright Cabaret brings their brand of "new generation cabaret" to the Thousand Oaks Civic Art Center's Scherr Forum Theatre in Thousand Oaks, CA with the NEW series entitled the "American Icon Series!"
The American Icon Series first debuted to sold out audiences at La Mirada Theatre for the Performing Arts in La Mirada, CA. Now on tour, the series features Broadway stars, T.V. stars and up-and-coming local artists performing their own selections while highlighting the music of each shows American Icon's.
2010-2011 Upright Cabaret's AMERICAN ICON SERIES concerts as a subscription – a 20% savings over single ticket pricing. To subscribe to this series, please call subscriber services at Tuesday thru Sunday, noon to 5:00pm.
2010-2011 UPRIGHT CABARET'S AMERICAN ICON SERIES:

Motor City – October 23, 2010

Mighty Mississippi – January 15, 2011

Country Roads – April 9, 2011

City of Angels – July 9, 2011
Thousand Oaks Civic Arts Center – Scherr Forum Theatre
2100 Thousand Oaks Boulevard
Thousand Oaks, CA 91362
Civic Arts Plaza Box Office:
(805) 449-ARTS (2787)