It is with great pleasure that we announce that Grammy Award-winner PAULA COLE (who's song "ME" inspired Eden Espinosa's "ME" concert) is set to special guest for Eden Espinosa: ME on Fri, July 24 @ 8:30pm at the Ford Amphitheatre!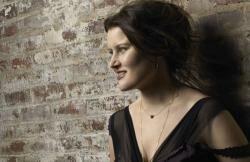 Grammy Award-winning and Decca recording artist PAULA COLE is a female singer/songwriter who rose to prominence in the mid-'90s with her hit single, "Where Have All the Cowboys Gone?" Her first big break arrived in 1993 when Peter Gabriel asked her to join his Secret World Tour. In 1997, the album "This Fire," became a word-of-mouth hit. Paula participated in the first Lilith Fair in 1997 and in the same year, won a Grammy Award for Best New Artist. In 1998, she scored with the hit single, "I Don't Want to Wait," popularized as the theme to the WB show Dawson's Creek.
Ms. Cole will officially kick-off her West Coast tour here in Los Angeles on Saturday, July 25 with a concert at the Pershing Square Stage in downtown LA but will make a special appearance on stage with Eden Espinosa on Friday, July 24th.
Tickets are going fast! Get your Tix!
Click for Tix to Eden Espinosa: ME
or call 323-461-3673
Purchase before July 17 and save $10! (Discount Code: edenfriend)
For more information, please visit: www.fordtheatres.org or www.uprightcabaret.com. For more info about Paula Cole visit www.paulacole.com.