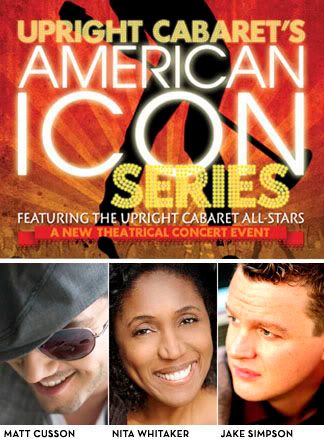 On Oct 23, 2010 at 7:30pm – L.A.'s famed Upright Cabaret brings their brand of "new generation cabaret" to the Thousand Oaks Civic Art Center's Scherr Forum Theatre in Thousand Oaks, CA the NEW series entitled the "American Icon Series" celebrating the Music of Aretha Franklin, Stevie Wonder & Michael Jackson!
The American Icon Series first debuted to sold out audiences at La Mirada Theatre for the Performing Arts in La Mirada, CA. Now on tour, the series features Broadway stars, T.V. stars and up-and-coming local artists performing their own selections while highlighting the music of each shows American Icon's.
In our MOTOR CITY concert, performers will pay homage to the Queen of Soul ARETHA FRANKLIN, Motown prodigy STEVIE WONDER and the King of Pop MICHAEL JACKSON. Expect to hear favorites like Chain of Fools, Respect, Ribbon In The Sky, Isn't She Lovely, Rock With You, Heal The World and more, in a one night only concert.
Scheduled to perform: NITA WHITAKER (CBS Star Search Grand Champion, frequently tours with the likes of Josh Groban, Andrea Bocelli & Chris Brotti), JAKE SIMPSON (03&04 Star Search Grand Champion, Oprah Winfrey Favorite) and MATT CUSSON (Brian McKnight protege, John Lennon Songwriting Contest winner) with MD Gerald Sternbach.
CLICK FOR TICKETS AND MORE INFO
Tickets: $25-40, Student/Senior Discounts available. Call Box Office at or click above.
Subscribe and SAVE 20%! For subscription information and pricing, please contact the Thousand Oaks Civic Arts Plaza Subscriber Services department at (Tuesday through Sunday from 12 noon to 5:00 PM)
Thousand Oaks Civic Arts Plaza – Scherr Forum Theatre
2100 Thousand Oaks Boulevard
Thousand Oaks, CA 91362