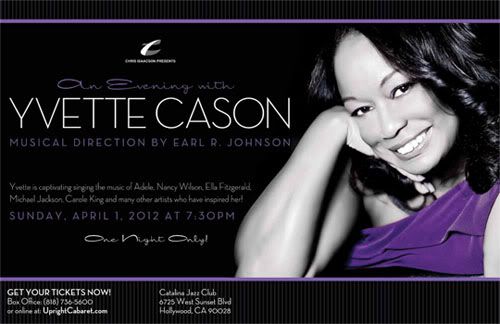 On Sun, April 1st, 2012 at 7:30pm, Upright Cabaret and Chris Isaacson proudly present An Evening with YVETTE CASON.
Slip into the shadows of the cozy Catalina Jazz Club, and spend an "Evening with Yvette Cason." Listen to her sing the story of her stellar career – from appearing in Play On!, Sisterella and Dreamgirls, performing at the Kennedy Center and the White House, to working with the likes of Stevie Wonder, Babyface and Whitney Houston.
Yvette shares the music that shaped her as an artist, her flirtatious voice moving with ease from soulful rhythm and blues to sensual jazz. Ben Brantley from the New York Times says, "Ms. Cason has an infectious comic sparkle, and she can scat with the best of them."
Be captivated by her return to the stage as her voice resonates in true cabaret style.
Musical Direction by Earl R. Johnson, Jr. (Chaka Khan, Gerald Albright) with his band.
CLICK FOR TICKETS AND MORE INFO
Tickets: $25, VIP seating available // Get your tickets today! or online by clicking above!
Upright Cabaret at Catalina Jazz Club
6725 West Sunset Blvd.
Hollywood, CA 90028
*Tickets purchased online receive priority seating
*Dinner/Drink minimums apply
Presented by Chris Isaacson Presents