Chris Isaacson & the L.A. Gay & Lesbian Center's Lily Tomlin/Jane Wagner Cultural Arts Center present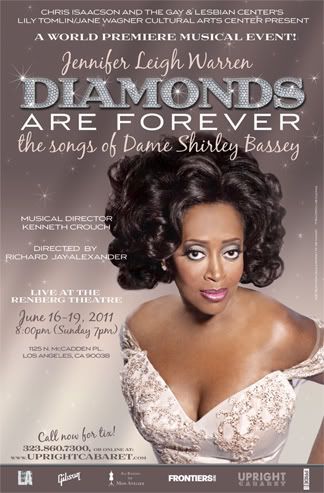 Making its premiere in Los Angeles, DIAMONDS ARE FOREVER: the songs of Dame Shirley Bassey is a new, theatrical musical evening featuring Jennifer Leigh Warren's (Broadway: Little Shop of Horrors, Big River) fresh spins on Bassey's legendary songs, including monster hits like Goldfinger, Big Spender, Diamonds Are Forever and more!
The show, directed by Richard Jay-Alexander (Barbra Streisand, Bernadette Peters, etc), is not an imitation or a life story/bio of the great star, but a gentle nod to the brilliance of material, approach and unique delivery of some of the greatest songs ever written. As everyone knows, great songs never go out of style … especially when stylishly presented!
With a full band, under the Musical Direction of Kenneth Crouch (Eric Clapton, Babyface, etc), the evening's fashions designed by Ali Rahimi at Mon Atelier, and observations of a very rich period in history, this concert will define what truly makes a star!
CLICK FOR MORE INFO & TICKETS
Tickets: $30
Call now for Tix! 323.860.7300 or online above!
4 PERFS ONLY | JUNE 16-19 | THE RENBERG THEATRE AT THE VILLAGE AT GOULD PLAZA
In The Heart of Hollywood's Theatre District
(One Block East of Highland, just north of Santa Monica Blvd)
1125 N. McCadden Place, Los Angeles, CA 90038
LEARN MORE ABOUT OUR CREATIVE TEAM