November 11, 2010
8:00 pm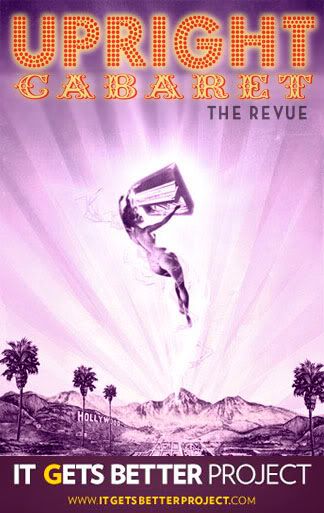 On Thurs, Nov 11, 2010 at 8pm – Chris Isaacson in assoc. with Upright Cabaret presents "IT GETS BETTER: THE CONCERT" featuring the Upright Cabaret All-Stars at Catalina Bar & Grill, 6725 W. Sunset Blvd, Los Angeles, CA 90028.
In light of the recent events surrounding the six young men and boys who tragically took their lives after being tormented and bullied, producer Chris Isaacson will bring back the beloved Upright Cabaret Revue for a ONE NIGHT ONLY concert to raise funds and awareness for THE TREVOR PROJECT, the nation's largest GLBT Suicide Hotline.
The Upright Revue is a wildly popular night of song featuring an eclectic mix of artists from stage, record and screen. For over five years, The Upright Revue has captured the Bohemian spirit of 'Moulin Rouge' and brought the golden-age of supper clubs back to Hollywood. From Perez Hilton to Variety, a flurry of media attention and sponsors have exploded, spinning cabaret into what Angeleno Magazine proclaimed "one of the best ways to get down after sundown."
Performances by Taylor Dayne (3x Grammy-nominated pop star of hits like "Tell It To My Heart"), Walter Afanasieff (Grammy Award-winning record producer/songwriter of hits like "My Heart Will Go On" and "Hero"), Frenchie Davis (Grammy Nominated American Idol finalist), Maxee Maxwell (from Grammy-nominated R&B group, Brownstone), Yvette Cason (Dreamgirls, Play On!), Jake Simpson (Oprah favorite), Nita Whitaker (13x Star Search Grand Champion), Jennifer Leigh Warren (Little Shop of Horrors, Big River, Marie Christine), Harlem Lee (NBC's Fame), Our Lady J, Tapiwa Mugadza, Matt Cusson (John Lennon Songwriting Award-winner), Laura Dickinson (Disney's Phineas & Ferb), Elizabeth Brackenbury (Vanities, Music of the Night, The Merry Widow), Jimmy James (Master Vocal Impressionist), Scott Nevins, Danny Jones (American Idol) and more to come!
CLICK FOR TICKETS AND MORE INFO
Tickets: $20 online or $25 at door (if available). Table minimums apply
Catalina Bar & Grill
6725 W. Sunset Blvd
Los Angeles, CA 90028
Box Office (323) 466-2210