December 31, 2011
4:00 pm
10:00 pm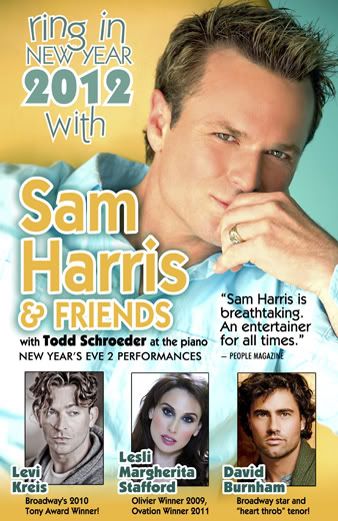 On Sat, December 31, 2011 at 4:00pm and 10:00pm, Tony Award-nominated Broadway star Sam Harris will ring in the New Year 2012 with SAM HARRIS & FRIENDS with Todd Schroeder at the piano LIVE only at the El Portal Theatre in North Hollywood, CA!
As the first winner of Star Search, Harris was the original "idol" with a career which has spanned over three decades! Sam has continued to wow audiences with his breathtaking vocal's and charismatic stage performances in his Tony Award-winning turn in the original Broadway cast of The Life, as well as, The Producers, Liza at The Palace, Grease and the forth coming "Schmoolie & Minnooli" starring opposite Oscar and Tony Award-winner Liza Minnelli.
Perhaps no other artist has chiseled so completely, the niche of redefining the vast American Songbook, appealing to international audiences of all ages.
Mr. Harris will be joined by 2010 Tony Award-winner Levi Kreis (Million Dollar Quartet), Broadway heartthrob David Burnham (Wicked, The Light in the Piazza) and Olivier Award-winner Lesli Margherita (Zorro) with Music Director Todd Schroeder at the piano!
CLICK FOR TICKETS AND MORE INFO
Tickets: $45-75, VIP $150 / Get your tickets to ring in the New Year with Sam Harris! or click above for advance tickets online
OUR PATRONS SAVE! Save $10 (Orchestra) and $5 (Side Seats) with Discount Code: UPRIGHT
El Portal Theatre
5269 Lankershim Blvd.
North Hollywood, CA 91601