September 25, 2009
9:00 pm
September 26, 2009
9:00 pm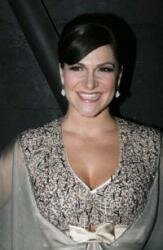 Upright Cabaret presents Shoshana Bean, with musical direction by James Sampliner, directed by Upright Cabaret Artistic Director Billy Porter.
After completing her limited engagement in Peep Show at the Planet Hollywood Casino in Las Vegas, the spectacular Shoshana Bean returns to Los Angeles to present selections from her critically acclaimed concert "Shoshana Bean: A Happening" This time the happening is in the most intimate upscale venue in Los Angeles… Upright, VT. Audiences will witness the evolution of an artist as Ms. Bean pays tribute to her icon Barbra Streisand and tells her own story through music from her debut album "Superhero". This intimate club performance takes place on the same weekend Ms. Streisand returns to the Village Vanguard in New York City after forty-eight years, to celebrate the release of her new album "Love Is The Answer".
"Ms. Bean's singing was magnificent and stirring, always original, heartfelt, and quite funny when needed. She is a major talent and I feel lucky to have been there." – BlogCritics.org
"A star turn unlike any other." – BroadwayWorld.com
Friday, September 25, 2009
9pm
Saturday, September 26, 2009
9pm
CLICK HERE TO PURCHASE TICKETS
Tickets also available at the door prior to the performance if they are still available. Please note that there is a $20 food and beverage minimum per person.
Upright at Vermont
1714 Vermont (Hollywood and Vermont)
Los Angeles, CA 90027
Shoshana Bean grew up in Portland, Oregon. She attended the University of Cincinnati College-Conservatory of Music, graduated with a BFA in Musical Theater and wasted no time in heading to New York City. There she was cast in the Off-Broadway revival of GODSPELL and with the release of the cast album, which included her rousing rendition of "Bless the Lord," she had earned herself a spot on the musical theater map. Immediately following GODSPELL, she became increasingly interested in and involved with the pop music scene. Her first high-profile gig was singing back-up for a huge lineup of stars including the Jackson's 30th anniversary concert celebration at Madison Square Garden. Inspired by the experience, she began focusing on writing, recording and performing her original music around NYC. Shoshana made her Broadway debut in the critically acclaimed, Tony Award-winning original cast of HAIRSPRAY. Following her two year run in HAIRSPRAY, Shoshana began a five-month stint as standby for Tony Award winner Idina Menzel in the hit Broadway musical WICKED. In January of 2005, Shoshana took over the role of Elphaba until January of 2006. Her most memorable moment to date was honoring legend Aretha Franklin at the "Soul Train Lady of Soul Awards." Shoshana sang Franklin's classic "Ain't No Way" alongside Brian McKnight for the nationally broadcast show.