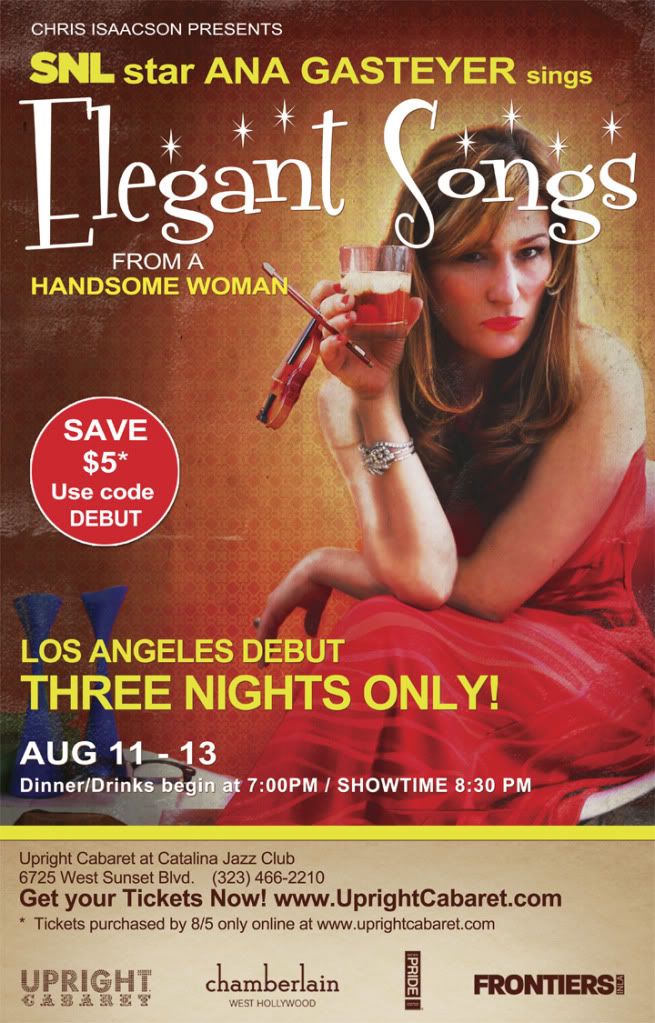 Chris Isaacson & Upright Cabaret present the West Coast debut of Broadway diva and Saturday Night Live star ANA GASTEYER in "ELEGANT SONGS FROM A HANDSOME WOMAN" playing a limited engagement at the Catalina Jazz Club, 6725 West Sunset Blvd, Hollywood, CA 90028.
Gasteyer brings unique comic wit and style to the stage in her new show featuring songs and stories from…um, dare we say "a Handsome Woman?!"
The comedy superstar dons a dress and works her hardest to keep the evening "elegant" with her powerhouse vocals showcasing Broadway ditties, beloved - if forgotten - standards and movie melodies!
This evening promises to be classy, brassy and sassy or classy, brassy, quirky and tear-jerky, depending on world events and/or her hair frizz factor! Gasteyer will be gently assisted by Director Julian Fleisher and band leader Jon Spurney!
CLICK FOR MORE INFO & TICKETS
Los Angeles Debut – Three Performances Only!
Thurs-Sat, Aug 11-13, 2011 at 8:30pm
Tickets: $35
Reserve your seat today! or Advance VIP seats online above!
*Tickets purchased online receive first priority in seating.
*Dinner/Drink minimums apply
Upright Cabaret at
Catalina Jazz Club
6725 West Sunset Blvd.
Hollywood, CA 90028