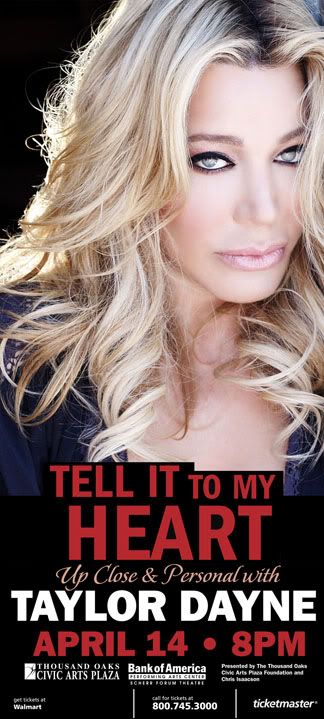 On Sat, April 14, 2012 at 8:00pm, Chris Isaacson and The Civic Art's Plaza's Club Series present 3x Grammy Award-nominee Taylor Dayne in a rare NEW concert event entitled "TELL IT TO MY HEART: Up Close and Personal with TAYLOR DAYNE."
Spend an intimate evening with TAYLOR DAYNE as she shares the stories behind her legendary songs and listen to "the voice" that has made her one of the most recognizable and beloved personalities in pop music for more than 20 years.
With 17 Top-10 Hits including "Tell It to My Heart," "I'll Be Your Shelter," and "Love Will Lead You Back," Taylor Dayne stands out as one of music's most dynamic artists. Her versatile and powerful voice has gained recognition in multiple genres from pop and dance, to rock and adult contemporary; earning her three Grammy Nominations, and numerous multi-platinum and gold selling albums.
She has sold out two world tours and successfully appeared in numerous film, television and stage roles including Elton John and Tim Rice's Tony Award Winning Musical "Aida" in 2001.
With an energetic 5-piece band and vocalists Jake Simpson (Star Search) and Karissa Noel backing the star, this is sure to be an incredible evening of entertainment!
CLICK FOR TICKETS AND MORE INFO
Tickets: $45 / Call Box Office at or click above!
Thousand Oaks Civic Arts Center – Scherr Forum Theatre
2100 Thousand Oaks Boulevard
Thousand Oaks, CA 91362