September 27, 2008
9:00 pm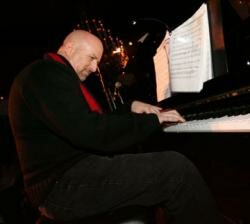 LA's celebrated Music Director Gerald Sternbach and Upright Producer Shane Scheel continue their time honored (2nd annual) tradition of celebrating life… THEIR LIVES! Gather around the piano with Gerry, Shane and fellow Upright birthday girl Talia Thiesfield along with close to 30 of their Upright family members for a night of good music, good fun and of course GOOD drinks.
Admission is FREE!
Dinner and drink specials begin at 7PM. There is a $30 per person minimum in the dining room. No minimum at the bar.
MUSIC BEGINS AT 9PM
Call for dinner reservations.
Mark's Restaurant
861 N. LaCienega Blvd.
West Hollywood, CA 90069
Scheduled performances by: Becky Baeling, Jonah Blechman (Not Another Gay Movie), Elizabeth Brackenbury (Vanities), Chadwick, Wilson Cruz (My So Called Life), Ron Dennis (A Chorus Line), Tim Draxl (Swimming Upstream), Brandon Fureigh, Julie Garnye (Broadway's HAIR concert), Jason Graae (Falsettos), Matt Henerson, Elizabeth Hoffman, Adam Hunter (Ragtime, Lion King, Les Miserables), Steve Mazurek, Amanda McBroom (Golden Globe Winner for The Rose), Merrick McMahon, Jen Malenke (Hight School Musical: Get In The Picture), Adam Lambert (Wicked), Tom Lowe (Les Miserables, Cats on the West End), Audra Mae, Leslie Odom Jr. (CSI), Peter Ojeda, Eddy Rioseco, Taryn Rioseco, Joan Ryan, Camille Saviola (Broadway: Nine, Entourage on HBO), Jake Simpson (Star Search Grand Champion), Talia Thiesfiled, Anne Fraser Thomas, Tracie Thoms (Rent, Cold Case), Jennifer Leigh Warren (Big River, Little Shop of Horrors), Matt Zarley (Chicago, Joseph and the Amazing Technicolor Dreamcoat) and other surprise guests.