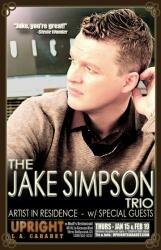 Upright Cabaret presents singer/songwriter JAKE SIMPSON (Oprah Winfrey's 20 Greatest Moments, '03&'04 Star Search Grand Champion) as part of Upright's new "Artist In Residence Series". This series is designed for emerging artists to have a monthly forum to develop their work and expose them to a larger audience base. Each 90 minute concert will feature the Jake Simpson Trio and a special guest.
Best remembered for his stirring performance of "Isn't She Lovely" with his idol Stevie Wonder on OPRAH WINFREY. Jake has been heavily influenced by the vocals of Wonder, Steve Perry (Journey) and the classic style of Sam Cooke. Regarding his Upright residency, Simpson said, "This is the first time I've had the opportunity to perform my own music in front of an LA audience. Finally, instead of singing "Don't Stop Believing", I'm singing "My Song"!
Mark's currently features their 1/2 price menu on Thursday nights / "10 Cane Rum" Drink Specials begin at 7:00PM.
SHOW TIME 9:00PM
Admission to this very special night of music is FREE!
Dinner reservations receive priority seating. Call to make your reservation today.
Mark's Restaurant
861 N. LaCienega Blvd.
West Hollywood, CA 90069
nbsp;
MORE ABOUT THE ARTIST:
JAKE SIMPSON twice (2003 and 2004) won the top honors in the Adult Singer category on CBS-TV's "Star Search" with his powerful high tenor voice and three-octave range. Growing up in Crocker, Missouri, making music has been one of the most important driving forces in Jake's life. His sound is influenced by Stevie Wonder, Steve Perry, Donny Hathaway, and the classic style of Sam Cooke. One of the highlights of Jake's life was when he was invited to perform on "The Oprah Winfrey Show." The show, which first aired on June 8, 2004, was one of Oprah's favorites, as she surprised Jake by bringing out his idol, the legendary Stevie Wonder, to duet with Jake on Wonder's "Isn't She Lovely." The surprise thrilled Oprah so much that she included it on her 20th anniversary DVD box-set. This past year, Jake produced and recorded two new CD's, the holiday themed "Star of Wonder." To bring his holiday music to the masses, Jake just completed a holiday tour with Jim Brickman. The concert tour received rave reviews, and Jake specifically being singled out for his "blue-eyed soul" and his "Amen"-inducing rendition of "O Come All Ye Faithful." "Star of Wonder" offers a Pop/R&B approach to traditional Christmas hymns and contemporary songs. His second release is his "My Song" which Jake wrote all the music and lyrics to.