April 14, 2012
7:00 pm
9:30 pm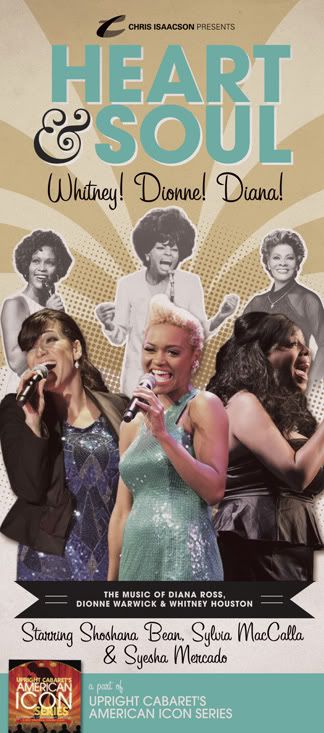 On Sat, April 14, 2012 at 7:00pm and 9:30pm, Chris Isaacson and The Rrazz Room San Francisco's Premier Nightclub present Upright Cabaret's HEART & SOUL in San Francisco for One Night Only!
Whitney. Dionne. Diana. Three names that are synonymous with Excitement. Greatness. Heart. And Soul. Direct from L.A. famed Upright Cabaret comes the NEW show HEART & SOUL, a legendary lineup of songs from three of the most memorable voices of the past three generations.
Be seduced by the sultry starlets of today as they capture the awesome vocal power of our favorite soul sisters. Led by Musical Director Davy Nathan with the Upright Cabaret band, this show combines old glamour and new flair by reinventing the greatest hits of yesterday with a modern, hip feel.
These stunning arrangements are accentuated with a larger-than-life montage of rare photos and videos that showcase the lives of these iconic women on their rise to fame. The evening is a masterful tribute, evoking the charming nostalgia of three beautiful, trailblazing divas who never go out of style.
Starring Shoshana Bean (Wicked, Hairspray), Sylvia MacCalla (Rent, Hairspray) and American Idol finalist Syesha Mercado (Dreamgirls – National Tour).
CLICK HERE FOR TICKETS AND MORE INFO
Tickets: $35, Limited VIP seating available! Box Office (415) 394-1189 or online by clicking above!
The Rrazz Room, San Francisco's Premier Nightclub 222 Mason Street San Francisco, CA 94102