February 27, 2009
8:00 pm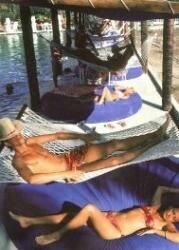 Upright Cabaret continues its 2nd Season in Palm Springs at the new Ace Hotel & Swim Club
The "hottest ticket in town" returns with star-studded poolside concerts.
L.A.'s famed Upright Cabaret returns to the desert for a 2nd season of star-studded concert events at the new Ace Hotel & Swim Club.
Producers/hosts Chris Isaacson and Shane Scheel have re-teamed with Jonathan Heath at the Ace Hotel and Swim Club to create a one-of-a-kind dining and entertainment experience. From relaxing by the pool to lounging at the bar or dining at the "King's Highway" restaurant, guests can enjoy the show this poolside show in a variety of ways.
Under the direction of Upright's new Artistic Director, Billy Porter (Broadway: Grease, Dreamgirls, Little Shop of Horrors) the "new generation cabaret" will feature an eclectic mix of artists from stage, record and screen. This extraordinary event will feature Broadway stars Eden Espinosa (Broadway: Wicked, Brooklyn, Hair, L.A. cast of Wicked) and Shoshana Bean(Broadway: Wicked, Hairspray), Daniel Reichard (Broadway: Jersey Boys, Best Little Whorehouse in Texas) and will feature Tim Draxl (Austrailian Cabaret star), Leslie Odom, Jr. (Broadway: Rent, CSI), Audra Mae (singer/songwriter, FX's Sons of Anarcy, Judy Garlands grand-neice) and many more!
In the Golden Age of entertainment, Palm Springs supper clubs like the Chi Chi hosted all of the great stars of the day and helped define an era of style and sophistication that made Palm Springs famous. Upright Cabaret will reclaim that era at the desert's most anticipated new leisure property.
Upright Cabaret at the Ace Hotel & Swim Club
Saturday, February 27 & 28, 2009 at 8pm
701 E. Palm Canyon Drive, Palm Springs, CA 92264
Doors open at 6 PM / SHOWTIME 8 PM
Tickets: $25 in advance online or $30 at door on day of show (if available)
No food and drink minimums.
CLICK TO PURCHASE ADVANCE DISCOUNT TICKETS!
Reservations required for dining, please call: 760-325-9900
www.acehotel.com/palmsprings
Upright Cabaret began in Los Angeles in April of 2005 when producer/hosts Chris Isaacson and Shane Scheel bought an upright piano on Craigslist, borrowed a speaker and microphone from a guy in Venice Beach and begged a few of their talented friends to sing, drink and be merry. Since that standing room only inaugural engagement, Upright Cabaret has featured cast members from over 75 Broadway shows and countless film and television productions. After four years, this modern-day Martin and Lewis duo continue to work tirelessly to capture the Bohemian spirit of 'Moulin Rouge' and to present the country's finest singers in a variety of venues across the country. uprightcabaret.com
Ace Hotel & Swim Club – Palm Springs is the desert. People come here to escape the city and recharge with the tranquility of the desert landscape. Ace Hotel Palm Springs reinvents and updates the idea of the resort property, broadening the boundaries of the desert oasis. Offbeat details like tamale carts and tuk tuks offer surprise and amusement, while the property's serene setting is embraced via outdoor massages and edible landscaping. Built on the foundation of a 1965 Westward Ho Hotel, much of the property's original elements are preserved and restored, from unearthed terrazzo floors in the restaurant to the rare deep saltwater pool.
For the hotel's interiors, the L.A.-based visual curator team Commune builds on the Ace penchant for pure, human design. Commune's translation of the Ace vision transports the guest to an indulgent, bohemian "camping" experience. Utilitarian and beautiful, the design of Ace Palm Springs caters to the guest who seeks the simple and sublime. Opening mid-January 2009. www.acehotel.com