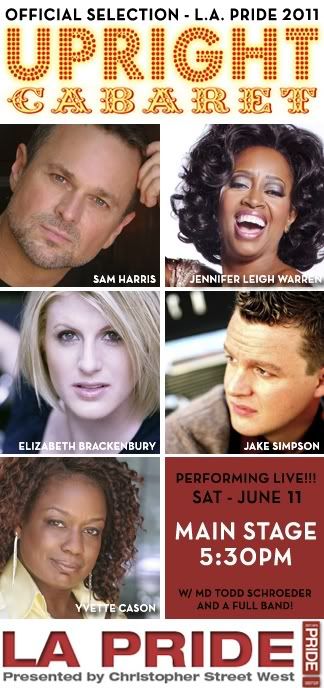 On Saturday, June 11, 2011 at 5:30pm, L.A.'s famed UPRIGHT CABARET will perform in-concert on the Main Stage at Los Angeles Pride 2011 with a star-studded cast featuring the very best vocalists from Broadway, T.V. and beyond!
Celebrating over six years of showcasing the finest performers on stages all around the Southland, Upright Cabaret is proud to return to L.A. Pride's Main Stage with an exceptional cavalcade of stars including Tony Award-nominee SAM HARRIS, YVETTE CASON (Dreamgirls, Play On!), ELIZABETH BRACKENBURY (Vanities, Rock of Ages), JAKE SIMPSON ('03 & 04′ Star Search Grand Champion, Oprah Favorite) and a special sneak peak from the new show "Diamonds Are Forever: the songs of Dame Shirley Bassey" with Broadway sensation JENNIFER LEIGH WARREN!
With a full band and horn section lead by Musical Director Todd Schroeder, this celebration of Broadway and Pride is sure to be the highlight of Pride 2011!
CLICK MORE INFO & FESTIVAL TICKETS
Los Angeles Pride 2011 – MAIN STAGEWest Hollywood ParkEntrance at Santa Monica Blvd / San Vicente Blvd.West Hollywood, CA 90069Info Line: nbsp;