December 13, 2010
8:00 pm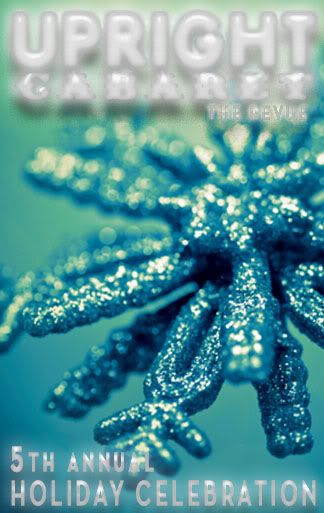 ***DUE TO CIRCUMSTANCES OUR OF OUR CONTROL, THIS CONCERT HAS BEEN POSTPONED. WE WILL RETURN TO CATALINA JAZZ IN JANUARY 2011. WE APOLOGIZE FOR ANY INCONVENIENCE. ***
On Mon, Dec 13, 2010 at 8pm – Upright Cabaret at Catalina Jazz Club will transform into a wonderland of song this December for Upright Cabaret's 5th Annual Holiday Celebration!
Experience the artistry of Upright's finest performers as they don their gay apparel to interpret some of your favorite holiday classics in the coziest upscale venue in Los Angeles. Cuddle up next to your special someone or raise a toast with your favorite someone's as intimate performances render childhood memories, laughter and the common bonds that unite us all.
The Upright Cabaret Revue is a wildly popular night of song featuring an eclectic mix of artists from stage, record and screen capturing the Bohemian spirit of the Moulin Rouge and bringing the golden-age of supper clubs back to Hollywood. From Perez Hilton to Variety, a flurry of media attention and sponsors have exploded, spinning Upright Cabaret into a hip and contemporary social swirl of young Broadway and Hollywood weaving a 90 minute tapestry of American song…and their Holiday Shows are no exception!
Experience what Backstage West called "astonishing," Broadway World describes as "a playground for famous folk who happen to be musically inclined" and what Angeleno Magazine proclaimed "one of the Best Ways to Get Down after Sundown in LA."
Performances by LESLI MARGHERITA (2009 Olivier Award Winner – Zorro, the Musical, star of TV Series Fame L.A.), JENNIFER LEIGH WARREN (Broadway: Little Shop of Horrors, Big River, Marie Christine), LAURA DICKINSON (Disney's Phineas and Ferb), ELIZABETH BRACKENBURY (L.A. Opera, Vanities), YVETTE CASON (Broadway: Dreamgirls, Play On!), HARLEM LEE (winner of NBC's Fame), TAPIWA MUGADZA, CAITLIN O'BRIENT, LYNSEY SHAW (Britain's [email protected]), JEN MALENKE (Broadway: Into The Woods), JILL BURKE (Former Miss Anaheim, Ovation Award Winner), HEATHER DONAVON, JASON PAIGE and more! With Music Director Todd Schroeder.
This highly anticipated yearly event is the perfect way to put you in the holiday spirit and traditionally reservations are hard to come by.
CLICK FOR TICKETS AND MORE INFO
Tickets: $20 online or $25 at the door (if available). Table minimums apply. Tickets bought online get first priority in seating.
Upright Cabaret at Catalina Jazz Club 6725 West Sunset Blvd Hollywood, CA 90028
Click here for directions on Google Maps!